Event report
Guided Tour | Dar Es Salaam Port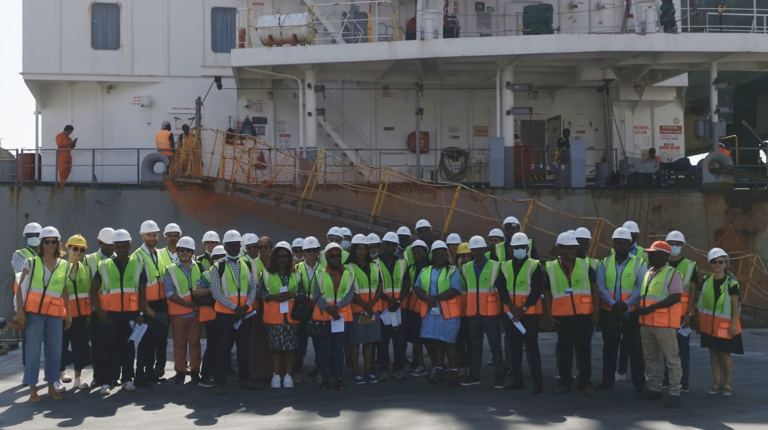 On March 10, 2023, the French Chamber of Commerce (FTCC) organized a visit to the Dar Es Salaam Port, Tanzania's principal port. The port, which was established more than 150 years ago, is currently the fourth-largest port on the African continent and handles approximately 95% of Tanzania's international trade. The visit was attended by more than 40 participants, who were guided by Nick Lushi, Benjamin Coston, and representatives from the Tanzanian Port Authority (TPA).
During the visit, the participants were informed that the port has a rated capacity of 14.1 million (MT) dry cargo and 6.0 million (MT) bulk liquid cargo. The port has a total quay length of about 2,600 meters with eleven deep-water berths. The port serves the landlocked countries of Zambia, the Democratic Republic of Congo, Burundi, Rwanda, and Malawi, making it a vital hub for East-African economic activity.
he Dar Es Salaam Port is divided into two areas: TPA 1 and TPA 2, with a quay length of 1428 meters and 725 meters, respectively. TPA 1 is operated by TPA and serves RORO, bulk, containerized, and liquid cargo. TPA 2 is operated by a private investor under a concessional agreement and serves Quays 8-11. The port's efficiency is measured by moves per hour, currently at 12.5/hour, and waiting time at anchor, which varies based on the number of vessels.
The participants were also informed about the port's development plans, which consist of :
• Phase 1: Dredging and rehabilitating Berths 0-7 has been completed.
• Phase 2: Dredging the entrance channel to a depth of 15 meters and widening the turning basin to 520 meters began in November 2021 and is estimated to be completed by Q1-2024.
• Phase 3: Dredging and rehabilitating Berths 8-12 and extending the containerized quay further to Quay 11 is currently in the procurement process.
The visit was made possible by our member CMA CGM, and the participants and the FTCC thanked them as well as the guides and TPA representatives for providing them with valuable information about the port. Overall, the visit was a success, allowing the participants to gain a better understanding of the Dar Es Salaam Port's operations and development plans.