OUR MISSION
| History
The French-Tanzanian Chamber of Commerce (FTCC), founded in 2019, is a non-profit organization affiliated to CCI France International, a strong network of 125 French bilateral Chambers in 95 Countries.

In the context of a reinforcement of the relations between France and Tanzanian, the former French Ambassador, Frederic Clavier and five French companies : Total Energies, Engie, Maurel&Prom, AGS and Bolloré have collaborated to create this organisation.
The FTCC offers a wide network, allowing entrepreneurs and companies to successfully approach the market and build long-lasting trade relationships for efficient and fruitful business development.
The FTCC is dedicated to helping French companies and entrepreneurs set up in Tanzania in their development project and to promoting exchanges related to business opportunities between France and Tanzania. Whether you are an established business or new to the area, the FTCC is here to help you succeed.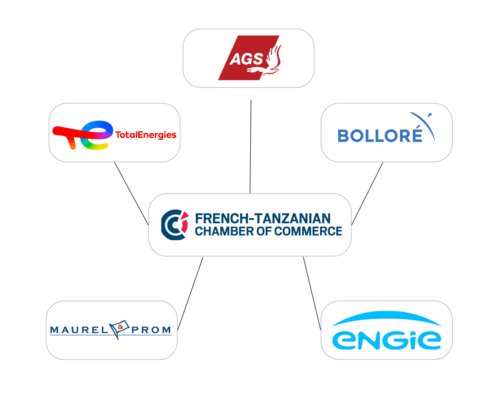 "As Tanzania moves towards industrial­ization, we have decided to come up with a mutual Chamber of Commerce, and, we are working together to attain market for French products here and Tanzanian prod­ucts in France, in a bid to ensure a win- win relationship that will create jobs while at the same time using all investment oppor­tunities"

Former French Ambassador, Frederic Clavier
| What are our missions ?
Encourage business networking
To provide a platform for exchange and business networking to Tanzanian and French companies through the organization of events.
Build business relationships
To create new business relationships and to give opportunities to share experiences.
To support the growth of Tanzanian and French businesses by assisting and facilitating trade, investment, finance and industry activities in Tanzania.
To encourage Tanzanian and French small and medium scale enterprises to prospect and set up businesses in Tanzania and/or France.
And much more to discover
To foster, support and represent our members' business interests by lobbying and advocating towards the national authorities.