The FTCC has the pleasure to extend the invitation of our member PwC for the event : "Demystifying personal data protection for organizations?".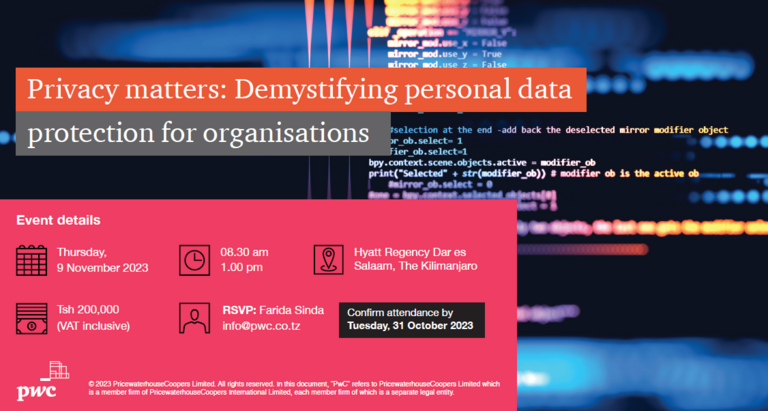 With increased digitization and automation, data protection and privacy has become a critical theme for organizations. The Personal Data Protection Act No. 11 of 2022 (the Act) passed by the National Assembly on 1 November 2022 and assented by the President on 27 November 2022 as a recognition of the right to privacy and personal security enshrined under Article 16 of the Constitution of the United Republic of Tanzania, 1977. The Act came into force in May 2023.
This PwC event aims at covering the fundamentals of the Act, implementing a compliant data privacy program and sharing experiences from the region. A facilitator from the East Africa region will be present, with experience in data privacy implementation and data protection impact assessments in the financial services and telecommunication sectors.
Register now to join the discussion with PwC leaders and a panel of forward-looking industry experts.
The price of the ticket is 200 000 TZS (VAT included) and the event will take place in the prestigious Hyatt Regency Dar es Salaam, on 24 Kivukoni Rd.
Mandatory registration by Tuesday October 31st